After you have completed your study and got your conclusion, you want to inform the world about your findings. In order to do that you must extract a research article from your study and submit it to a right journal.
As you may already know, the articles have the basic IMRAD structure (Introduction, Methods, Results, and Discussion). In some journals this order has undergone some change and they place methods at the end of the article or allow the authors to combine the results and discussion. To know the research article structure, you should first of all select your target journal and then study their author guideline which is usually inserted in the journal's website.
Selecting the journal
Choosing your target journal is very important because it affects what you want to emphasize in communicating your findings to others. For instance, if your research is in endocrinology but related to cardiology as well, you will communicate your findings differently for the audience interested in cardiology in comparison to those searching for findings in endocrinology. Therefore, when writing your research article, you should always keep your target audience in mind.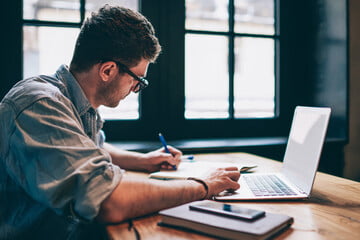 Developing your article's elements
It is better to start with the introduction, because it helps you to develop the story you are to tell the reader. In this step knowing your target journal is important. If you have cardiology audience in mind, in the introduction you should frame your study in the context of what would interest cardiology readers. But you will put stress on endocrinology more if your target journal is an endocrinology publication. The article Differences Between Abstract and Introduction of a Research Paper helps you in writing your introduction.
It is better to write your result section after the introduction section. Writing results before the discussion helps you organize the way you want to discuss them and give you the chance to review the discussion and maybe uncover new implications. In drafting the result section, keep in mind that visuals communicate a detailed story much easier than words. Therefore, it is a good idea to communicate your results through the use of images, figures and tables. Avoid repeating your results several times in text, figures and tables. Try to summarize patterns or trends in text but give details in a table or figure, but not both.
After you presented results in a clear and logical way and finalized the inferences you draw from them, it is time to put your focus on messages for your readers.
Determine your main messages
You repeat your key message several times in your research article submission: in the title, the abstract, the discussion and in conclusion. Depending on the journal style, the takeaway you believe to be the most important (the key message) comes at the end of your introduction as well. This repetition helps you to communicate your central message several times. But this can be a disadvantage in case you have not phrased your key message clearly.
Considering the fact that you are supposed to reiterate your main message several times, take time to pinpoint what these main messages are. Restrict yourself to one or two key messages and write and rewrite them until you phrase them in a clear and concise language so that they are understandable even to nonexperts. Alter this central message a little at each place it appears in your manuscript, but they always resonate each other, reinforcing your central message.
Develop your discussion
Your key message determines the way you draft your discussion. The discussion informs the reader about your most important findings and relates them with previous work. Explain how your results agree or disagree with those of others and give reason why your work might not be in agreement.
In most research articles there are a strength and limitation section that comes at the end of discussion section. In this section you provide the parts of your study design that highlight the validity of your findings (e.g., large population size, randomization, tight controls) and the parts that might weaken conclusions (e.g., small populations, observational, potential for residual confounding).
Try to initiate and end your discussion with the key message of your article. Some journals ask for a "conclusion" section for this purpose. In others the last paragraph of your discussion can be your conclusion which contains your main message one more time.
Parallelism
The approach to repeat sequence of elements in your manuscript is "parallelism". Try to create a pattern like this and follow it through all parts of your manuscript. Applying this parallel approach of organizing each element in the same order in the methods, discussion and results sections, the reader will identify the pattern and follow your research paper more easily.
Abstract
The abstract is mostly the only section of your article that people read after the title. It is an opportunity for you to offer a gist of your research article in no more than 250 words, so you need to make it count. Therefore, you should include only the most important information in the abstract. Briefly tell your readers why you did the study, how you did it, what have been your finding and what are the implications. The main messages that you extract should appear in your abstract conclusion.
Was this post helpful?
Let us know if you liked the post. That's the only way we can improve.